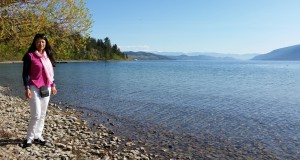 Living fully in the Present Moment means constantly letting go of what we have experienced in the previous moment, an hour ago, yesterday, last week, last month, last year…accepting what this moment brings forth and embracing the inherent blessings that each moment bestows upon us.
As we are coming toward the end of 2015, we are presented a great opportunity to come to total peace and acceptance with everything that has happened this year or before, the things that have already passed but we are still carrying them within us. Have you ever sat down quietly to have an intimate talk with yourself and see how much stuff you have been carrying around with you from year after year after year?
I encourage you to have this intimate conversation with yourself now. If you feel inspired please take a pen and some writing paper, and allow me to take you through this simple five-step exercise to start your 2016 fresh and new:
Write down your answers from 1-3, and do your best to finish writing each part in 5 minutes. Once you start writing just allow whatever comes up to come up whether it's something happened in 2015 or before, no need to think hard to remember anything.
All the major "mistakes" you have made in career, relationships, business, finance, etc., or things that you wish that didn't happen or could have happened in different ways.
What you have learned from these "mistakes" or from what actually happened.
Write yourself a letter that starts with "Dear your name…, to forgive yourself for all the "mistakes" and every one else that may need to be forgiven.
Bless everything that has come out of you through this writing and kiss it all away and send them to the golden sun to get them burned and transformed into blessings. You can choose to burn your writing paper as an effective kinesthetic gesture of being complete with it all. Please make sure you are in a safe place if you were to burn the paper.
Bless yourself, bless your life, family, career, relationships, business, friends, your pets and belongings and everything else you wish to bless.
Notice what you experience and how you feel. I wish that you are entering 2016 with the most expansive internal space ever. Thank you for doing this exercise with me. Many blessings for a new year full of peace, joy, love, harmony and abundance and everything else you wish to experience!